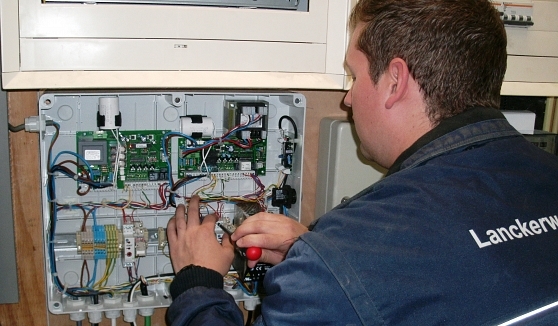 Service & maintenance
Service & Maintenance Programs
Of technical security systems a very high level of reliability is expected. Periodical maintenance will guarantee the reliability and assures the continuity.
This leads to fewer unwanted alarm and system failures, lower repair costs and control over your maintenance budget. We also periodically monitor whether the security measures taken are still in relation with the risk and/or if these measures comply with the latest regulations and security rules.
You have acces to our service on a 24/7/365 basis.
LanckerWolters has a nationwide operating service organization. The planning is done in a Client Management System in which the effective implementation and reports are accurately administrated, controlled and monitored.
Preventive Service Agreement (PSA)
Preventive maintenance includes frequent preventative checks of the equipment, adjusting it if necessary and the functional testing. A PSA can be upgraded to a SLA.
Service Level Agreement (SLA)
Corrective maintenance includes availability on a 24/7/365 basis for on-site troubleshooting and providing telephone support serving the hardware, where response times are fixed. A SLA agreement is only possible in combination with a PSA.
Software Support Agreement (SSA)
A Software Support Agreement is a contract for the provision of telephone support concerning the software and delivering annually necessary updates and patches. Such an agreement is usually a mandatory requirement by the supplier/developer of the software.
Full Warranty Contract
For new systems it is possible to close a Full Warranty contract. This contract is a combination of the services offered in the PSA, SLA and SSA agreemenat a fixed amount per year. This avoids all further and possibly extensive costs, so easy to budget.
We would like to point the possibility to service equipment and systems supplied by third parties.